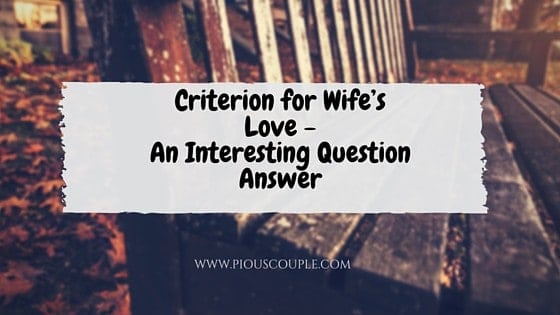 Criterion for Wife's Love
Question:
I am married to my cousin. I love her before marriage, only because she observes veil and have strong character. We do not have any interaction prior to marriage, but she liked me very much and we both know this. The marriage was arranged with the will and bliss of our parents. I was intensely glad when she came to my home after marriage, but later on she does not have the expression of a loving wife any more. It is about seven years to our marriage. Since then, she never has the attitude of a friend or a loving & affectionate wife, instead I feel as if:
She has some compulsion to live with me and have no feeling for me.
Neither has she participated in any of my grief or happiness whole heartedly.
Every man wishes that at least his wife should stand by him in all his sorrows and pain. He should be greeted warmly on returning home
Husband's Indiscretion and the Reply of an Intelligent Wife
I am facing a totally reverse attitude, rather she does not even reply to my salam (Islamic way of saying greeting). We almost have no conversation among us. She performs all of my chores like a machine; serves the meal when it is time to eat. She carries out the similar tasks like an appliance and tries to get rid of me at her earliest.
A person gets married to have a loving friend and can fulfill his natural desires as well. My wife is good in health but she does have any warmth for me in her heart. Even if there is no desire for intimacy, she can at least treat me tenderly.
Respected Molana Sahib, my wife wants to be with me but like a servant not as a spouse. I am a sensitive person and ponder upon this matter much, this wakes me up the whole nigh but I unable to find any way out.
The Role of Woman as a Wife – Ideal Guidelines for an Exemplary Wife
Respected Sir, I am myself greatly in favor of veil. I have taken full care of the needs of my wife and children in my honest and halal earning, especially tried to fulfill all the legal necessities of my wife. Sir, a seven years time span is sufficient to understand someone, but if he/she does not love you then how will you be able to know him. If there is some problem, she should discuss with me the issue. Whenever I ask my wife if she has any complaint from me, then every time she replies that you should have second marriage. If a woman herself asks for second marriage then what should I comprehend from this?
Dear Sir, kindly guides me in the light of Shariah (Islamic Law) and please also share some Wazifa (Something to recite repeatedly) that I may have peace of home, my wife started loving me and pay attention to our children. Please, also perform Istikhaarah (Information and guidance from Allah in dream) for me and do pray as well.
Respected Molana Sahib, I expect that you will surely guide me like your son and help me resolve this distress.
Answer:
It was your love marriage and still she does not qualify your high criterion. This is not the fault of that innocent soul; instead it is because of you high standards. As she is female and is unable to satisfy the elevation of your standards, that is why you are complaining; that humble person has no complaints. Its remedy is to lower your criteria of satisfaction.
Gentle Mode of Expression:


Which wife has is unconcerned with the suffering and joy of her husband? But everyone has her own way of expression; some express it as loud & clear as the drum beats, some whisper it like the gentle sound of harmonium and others just hide everything in the corner of their heart. No one knows what feeling he/she is going through. Now, how it is possible to convert the soft & mild sound of harmonium into drum's beat!

Preoccupied with household chores:

On coming back home you are not greeted warmly; do you have idea how busy she was in house hold chores? Take her all tasks to yourself for a day and experience her charge of duties yourself.

Work like a Machine:

She executes all of your tasks like a machine, and you give no prestige to an activated appliance. If you:
Hire a chef for cooking food
Engage a maid for cleaning the house
Arrange laundry for washing clothes
Appoint a nanny to look after children
Employee a watchman for safeguard,
In spite of taking services of this army of helpers, administration of the house would not be the same as being performed by that 'machine' alone. Despite of all this, your psychological criterion has no value for her services.
Modesty:

Seven years is really a long period of time, but alas! You never descend your standard to see your wife's hidden qualities which are being veiled in modesty by Allah. If you have ever come down from that altitude of standards then only you can understand that down to earth person.

Second Marriage:

No matter how many marriages you do, you will neither learn how to spend life nor will have tranquility of mind until you lower your intellectual standard.

Learn Human Psychology:

You do not need any Wazifa or amulet, but to be in a saint's company to learn humanity. When you will be bestowed with the ability to see gems, then only you will know that how blessed you are to have such a wife.
May Allah bless you and all the Muslim couples with such love and affection by which they not only follow the religion themselves but spread it to the world as well. You should also say Ameen!
---
We hope this article helped you. If you liked this article , then please subscribe us on Twitter , Facebook , Pinterest and Instagram.
May Allah SWT bless all Muslim brothers and sisters with happiness in their family life!
DISCLAIMER:
The articles and views posted on this blog are the opinions of individual authors only and as such may not reflect the opinions of Pious Couple staff, editors and readers. They are solely meant for educational purposes and not any illegal purpose. The authors/shuyookh are not responsible or liable for the intentional, reckless, or negligent actions of any individual. Any person who posts, quotes, cites, copies or otherwise relies on any article or comment associated in any way with Pious Couple blog bears sole responsibility for his or her actions, choices and words. While constructive criticism and meaningful discussions are welcome; abusive comments, name calling or intolerance towards other religions, race, sex, countries, etc., will not be entertained. Pious Couple reserves all rights to delete/edit any type of comment or discussion that is inappropriate Islamically, morally or otherwise.